Akoni's Body Delights LLC
Citrus Summer Breeze Hair Butter is a light and enriched moisturizing hair butter. It's super creamy and could be called a creme but since there isn't water added butter it is. This has been the most sought after butter since it hit the market. It is suitable for all hair types.

Light enough to use daily without hair feeling lifeless or weighed down. Just like all of our natural products there is never any product buildup.Formulated with two citrus butters: orange and lemon along with Tucuma, Organic Raw Unrefined Shea Butter and Apricot Kernel Oil just to name a few. This butter is perfect for use on every member of your family including the youngest members. It smells like you have walked through a citrus grove on a breezy summer day.A little goes a long way. Can be applied to both wet or dry hair for two strand twists or daily conditioning.

For moisture protection apply to wet hair after conditioner to seal in moisture. Citrus Summer Breeze Hair Butter is a natural product that doesn't contain any water. Please do not introduce water in the product by any means. Store in a dry area away from water or moisture.
How to Use

Please perform a patch test 24 hours prior to fully applying to your scalp and hair.
Part hair into sections. Evenly distribute hair butter onto scalp and
hair.  Pay close attention to ends and fly-a-way's. Style as desired.
Perfect to use daily
Warnings

Safe for children 2 years old or older
Ingredients

Orange Butter, Lemon Butter, Virgin Coconut Oil, Organic Raw
Unrefined Shea Butter, Aloe Butter, Tucuma Butter, Castor Oil, Apricot
Kernel Oil, Jojoba Oil, Lemongrass Essential Oil, Sweet Orange Essential
Oil, Pink Grapefruit Essential Oil, and Vitamin E (EcoCert Approved).

 *** Please note due to the nature of this butter.. this butter will
melt during high temperatures. If it melts during transit it will
solidify at room temperature and the effectiveness of the butter will
not be affected.
Disclaimer

This hair butter contains 100% natural carrier oils and
essential oils. Please read the ingredient list thoroughly; if you are
allergic to any of the listed ingredients please do not use this
product. We are not liable or responsible for illness or allergic
reaction. Please read instruction and always do the 24 hour skin test as
stated.
Regular price
$15.00
Sale price
$15.00
Unit price
per
Sale
Sold out
View full details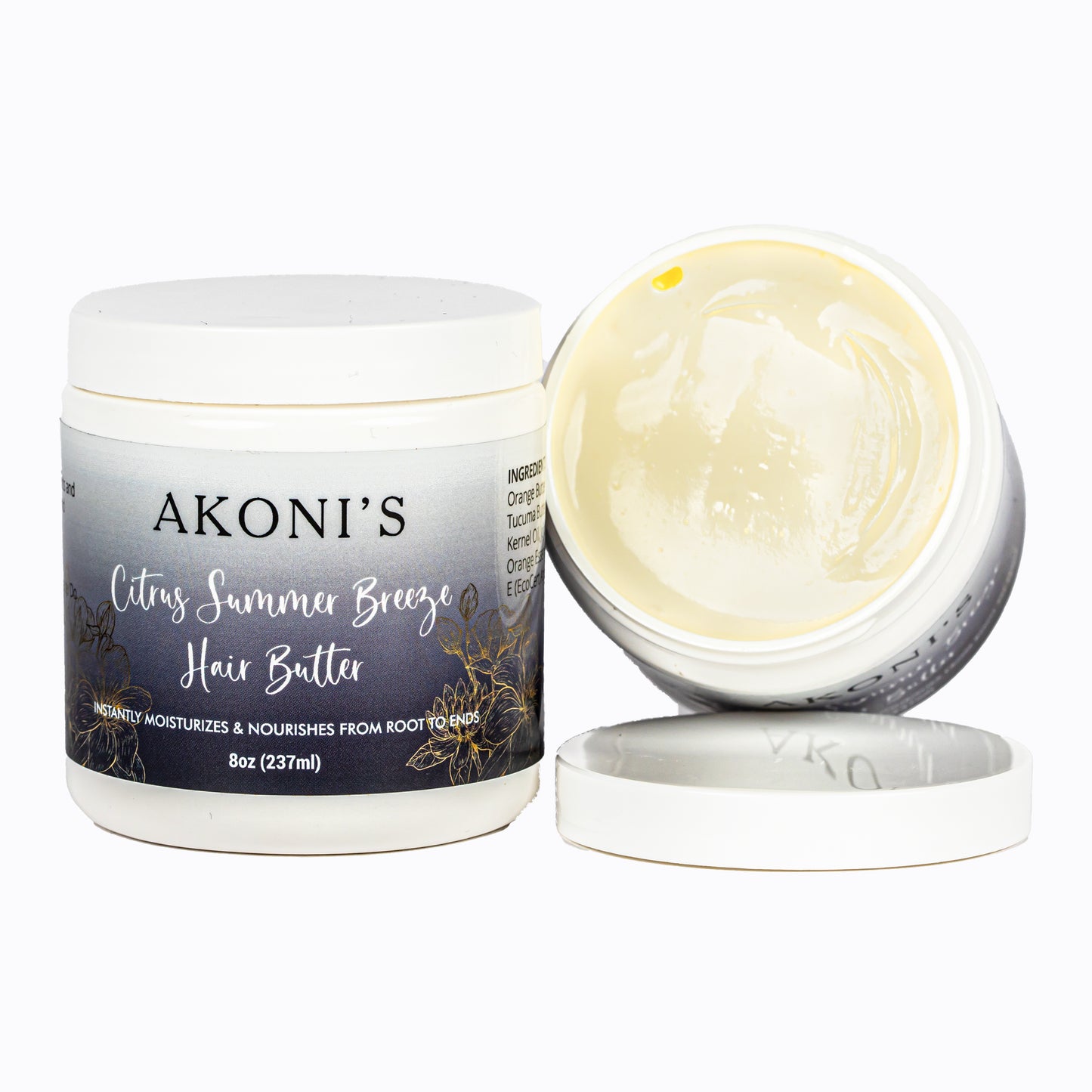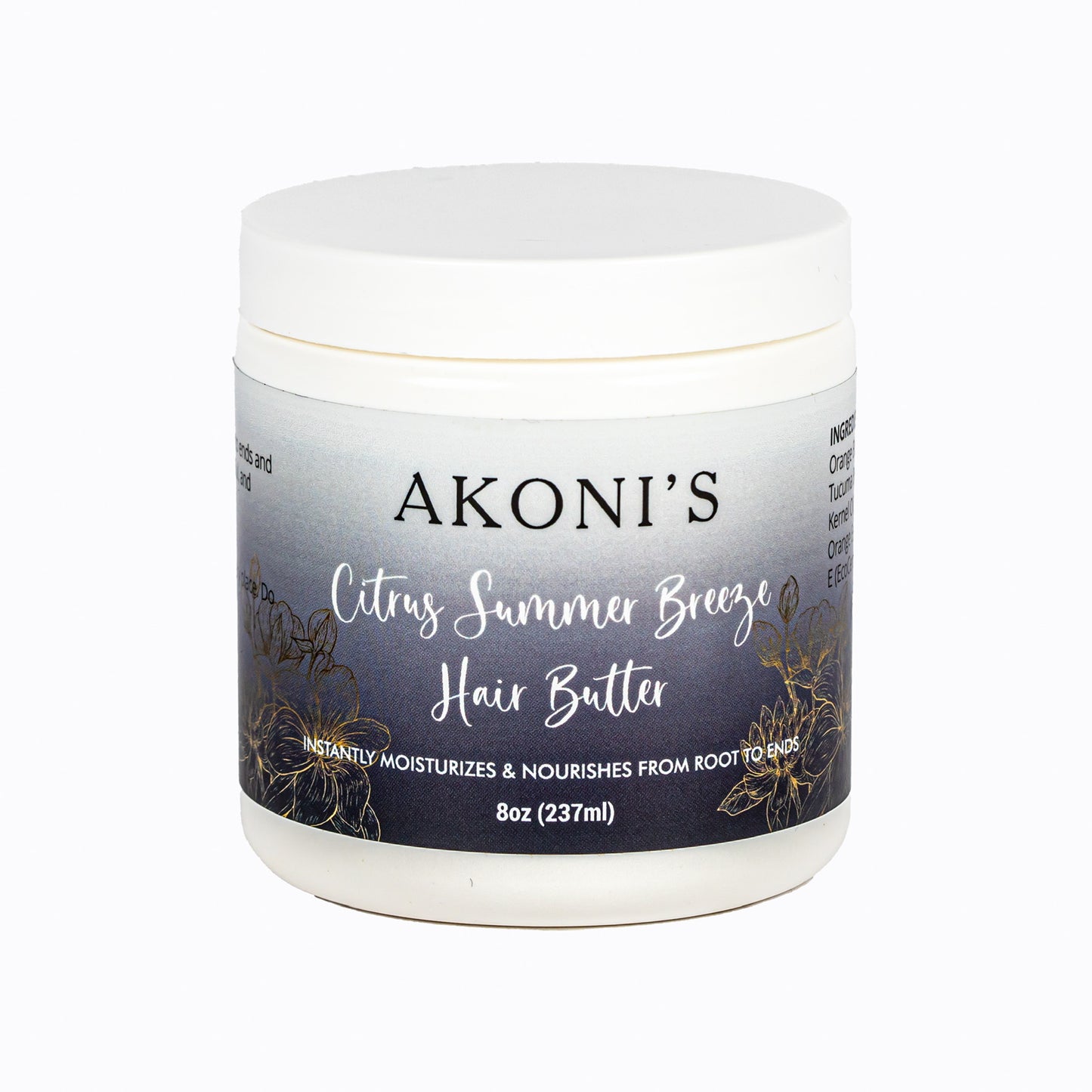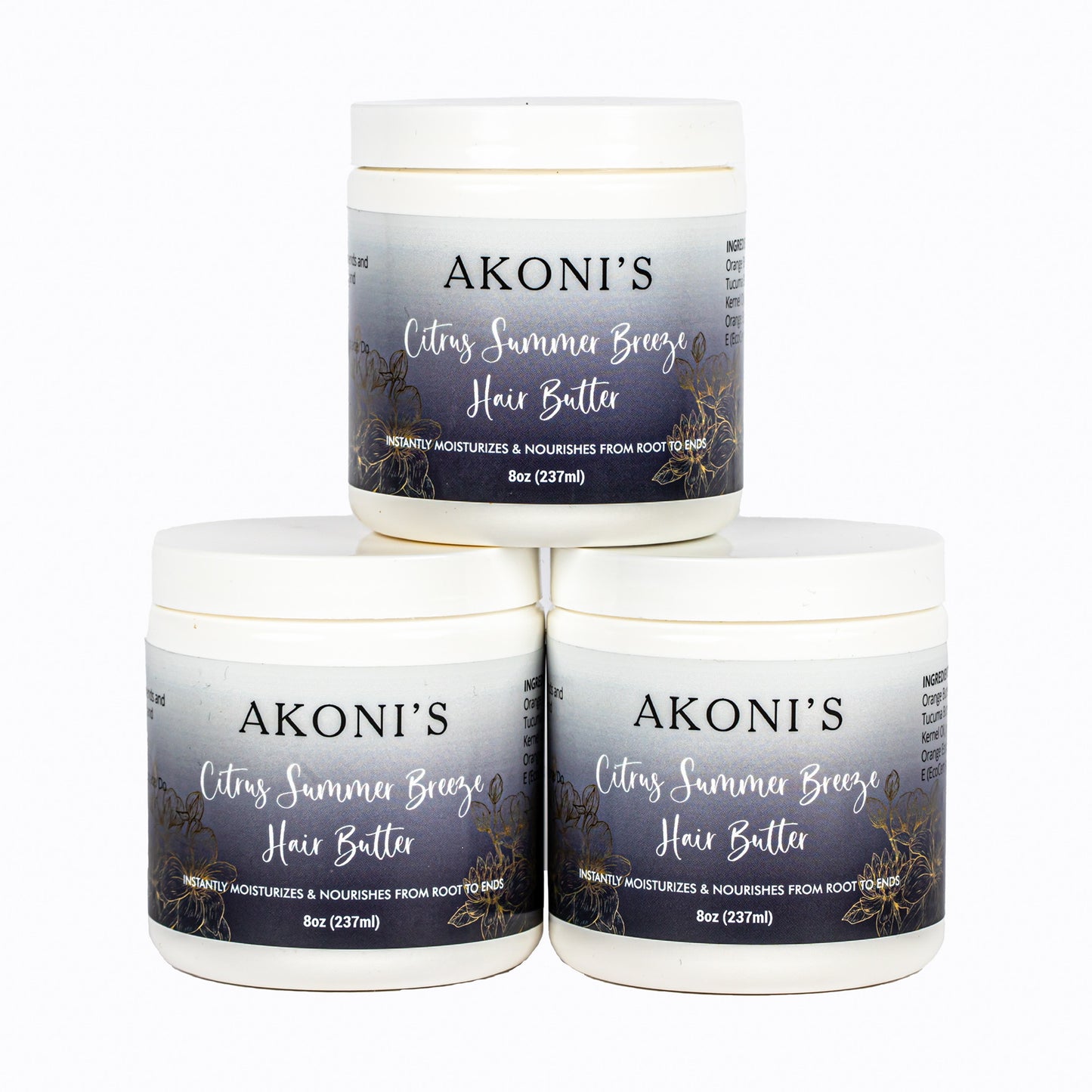 It smells soooo delicious I haven't used it yet cause I'm using other products on my hair rite no...
20+ stars for that hair butter for real it smells sooooo good
Citrus Summer Breeze Hair Butter
Purchased the Citrus Summer Breeze Hair butter from Akoni's. Nice blend of oils that gives the hair a great shine and softness. Used the hair butter on myself and my daughter. and very pleased with the results.
Great product: Citrus Summer Breeze Hair Butter is a excellent hair products. Excellent delivery. You can't beat their goods or services. 💕 Love them.
Soft and smells great
This butter leaves my hair smelling fresh, clean and very soft. It actually softens my hair for combing/brushing and for me, acts as an edge control for sleek edges and hair. I will definitely purchase more.